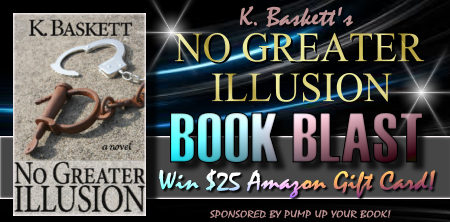 Pump Up Your Book and K. Baskett will be giving away a $25 Amazon Gift Card/Paypal Cash plus an autographed paperback & ebook copy of her book on her No Greater Illusion Book Blast today! This promotion begins on April 1 ends on April 26. The winner will be announced on April 27. To enter, fill out the Rafflecopter form below and good luck!
--------------------------------------------------
About No Greater Illusion
A number of unacquainted adults, from various walks of life, routinely enjoy the benefits of residing in a nation where liberty and justice are among its chief luxuries. Having different statuses of education, income, and ethnicity, all are suddenly forced to cope firsthand with the "domino effect" of America's violent reaction to the assassination of a promising female presidential nominee, Gov. Ceinwen Jarvis. In a day and time where the advancement of technology allows one's voting status, banking information, and even medical history to be accessed by microchip scan, they quickly realize that America - as well as their own lives - will never be the same.
Purchase your copy:
--------------------------------------------------
About K. Baskett
Jack of all trades, master of none - save for the art of procrastination - K. Baskett lives by the motto, "Never do today what can be put off until tomorrow." K. firmly believes that you aren't really interested in the author's hometown, spouse, children or pets, and has therefore decided to spare you the details.
No Greater Illusion
is the author's debut novel.
--------------------------------------------------
Pump Up Your Book and K. Baskett are teaming up to give you a chance to win some fabulous prizes! Win a $25 Amazon Gift Card or Paypal Cash, one paperback copy of No Greater Illusion or one ebook copy of No Greater Illusion!
a Rafflecopter giveaway
No Great Illusion Book Blast Tour Page:
http://www.pumpupyourbook.com/2013/02/19/pump-up-your-book-presents-k-basketts-no-greater-illusion-book-blast-win-25-amazon-gcpaypal-cash/
If you enjoyed this article please
hit the share buttons
, or check out some of the related articles in the column on the right. And visit us again.
I show concerned parents who want to give their children the best start to life
how to better understand their children.
And I show people who are facing difficulties that they are not alone
Kindle - currently on sale for just

$2.99


Smashwords
Facebook: Daniel Alexander Book
Twitter: @danielalex_book